So you want to be a Domino developer - revisited
---
It has been
a long time since part 1
and a lot of things have changed since the
original graphic
.
XPages
came along,
Dojo
got some
decent documentation
and everything
became social
. However the the graphic hasn't changed that much: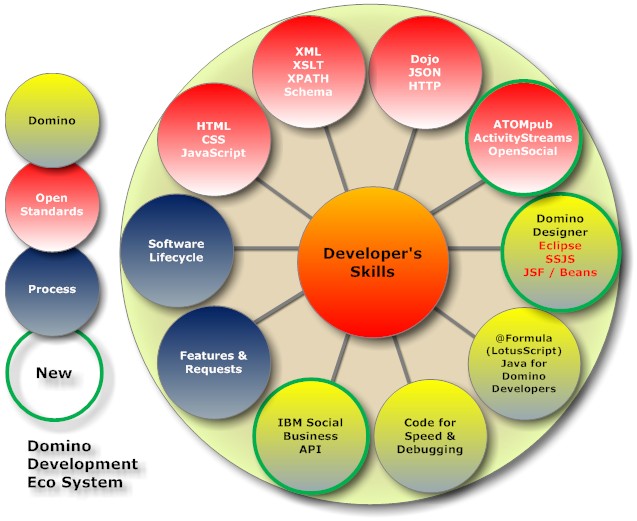 There's ServerSide JavaScript and XPages, which isn't hard to snap up if you had sufficient exposure to JavaScript and XML (as
suggested before
). For die-hard-LotusScript-Forms-Only developers the new HTML/JavaScript driven way of doing things is a big learning curve. There is a Domino Designer that looks more and more like an Eclipse plug-in (which IMHO is a good thing) and made you put SSD and RAM on the Christmas wish list. What is new (and don't tell me next year you haven't seen it coming) is the convergence in all IBM APIs towards a set of common standards. Moving forward you
must
make yourself familiar with them. In a future version of Notes they
will
become the API of choice for
exceptional work experiences
(I shamelessly borrow a term from IBM marketing here). Since you are already familiar with XML, HTTP and JSON, these APIs are actually easy to comprehend:
From my training experience I can tell: If you grew up with web standards, developing on the XPages platform is fast and fun.
---
Posted by Stephan H Wissel on 02 May 2011 | Comments (4) | categories: SYWTBADD