Social Software Adoption
---
US President Obama is credited for his
effective use
of social software.
Edelman
just published a paper titled "
Social media lessons from the Obama campaign
" as part of their
insight
series. From the description: "
Barack Obama won the presidency in a landslide victory by converting everyday people into engaged and empowered volunteers, donors and advocates through social networks, e-mail advocacy, text messaging and online video. By combining social media and micro-targeting in the manner that it did, the campaign revealed force multipliers that are already being adopted as part of a new communications model. In The Social Pulpit, Edelman's Digital Public Affairs team in Washington, D.C., examines the tactics of this revolutionary campaign and what it means for communicators in a new era of public engagement.
" You can
download the report
for free, it makes an interesting read. I liked the proposed stepped approach dubbed "Crawl, Walk, Run, Fly"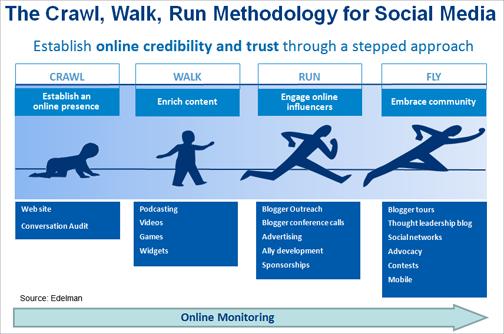 You might be in for a crash landing when short-cutting the process.
---
Posted by Stephan H Wissel on 29 January 2009 | Comments (0) | categories: Software