Sembawang Park and marinated chicken
---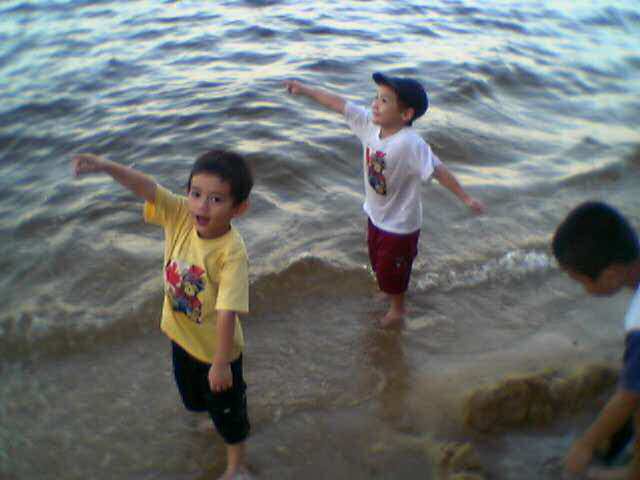 We spend the afternoon at
Sembawang Park
. Very much up in the north of our island it is pleasantly away from the hectic and business mind of central Singapore. You can see the coast of Johor/Malaysia and the Singapore Coast Guard performing show-off with their naval hardware (mental note: try to get a ride on one o these speed boats). We usually go there in the late afternoon where a light breeze makes the temperatures bearable (after sunset yesterday it still had 28C). Barbecue, camping facilities, a kiosk, showers and a restaurant make it a very convenient place to be. It takes us 10 min by cab or 2 stops with MRT/Bus to get there.
This time we had a classic picnic and I tried a new recipe for chicken breast:
You need Chicken breast for 4 persons. So 8-16 pieces, depending on the breast size and the people's stomach should do.
One bunch of fresh Parsley
10-12 cloves of fresh Garlic
One to two red Chilies
Salt, Black Pepper, Soya Sauce
1 spoon of Mustard
Sesame Oil and Olive Oil
A handful of Cranberries, I used dried ones, but resh should be OK to
Cut the Garlic, Parsley and Chilies very small with the big knife (it is important: don't use a blender and use fresh stuff). Put the mustard and salt on top. 2-3 spoon of sesame oil to start mixing it. Add 3-4 spoon of soya sauce and spices as you like (black pepper, herbs, salt). Fill up with Olive oil so you have enough substance to put your chicken breast in it. Add the cranberries. Don't be scared, its all unsaturated fat and that is OK. Put the chicken in the marinade and keep it there over night (2 day also doesn't harm). I a warm climate like ours that has to be in the fridge.
After the marination period pan-fry the chicken breasts. A few minutes until the are nicely brown should do (if you fry too long you might end up with shoe soles). Don't put anything in the pan when heating it up, there is enough grease in the marinade <g>.
Serve with fresh French baguette and a light white wine (or some juice if you, like me, don't drink.
You need you gut feeling to get the measurement right -- and try it on your own fun/risk. As Volker would say: Your mileage might vary.
---
Posted by Stephan H Wissel on 03 January 2004 | Comments (0) | categories: Singapore