Custom experience for IBM Connections Cloud - Project Muse
---
The old saying goes: "You can't have your cake and eat it too". When organisations move computing from servers they control into a
SaaS
(the artist formerly known as
ASP
) environment, they swap customisability for configurability and standardisation. The idea is, that a vendor controlled cloud environment benefits from both the economy of scale as well as the frequent updates the claimed DevOps model brings.
But you can have both. One of IBM's best secret are the assets that the
IBM Software Services for Collaboration
(ISSC) has been and is building. One of my all time favourites had been
Atlas for Connections
which predated
Watson Analytics
by half a decade.
Now I have a new darling:
IBM ISSC Project Muse
. This is the internal code name, no official name has been set or any decision been made to make this an official offering. However you can ask ISSC nicely, and they will use Muse technology in your project (that you awarded to them/us).
What does it do?
IBM Connections, in both on-premises and cloud is build around a set of APIs. These https APIs give and take XML and/or JSON. On top of them sits the regular UI. That UI in the cloud is only to a small extend customizable or extendable. The Muse engine therefore talks directly to the API and renders an alternate user experience. This alternate experience can include custom application data or (what I liked a lot) a blend of your activity stream with your messaging. This is how it works: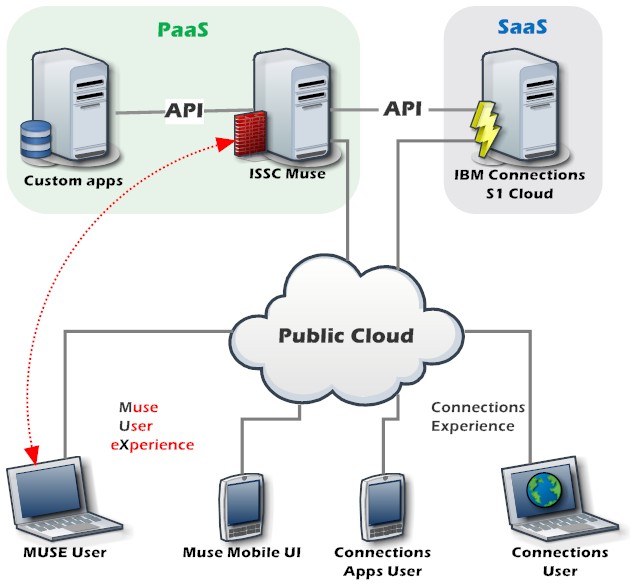 Of course the devil sits in the details:
script
libraries,
UI
components,
authentication
and application
engine
need to be tuned to work together with proper caching and a scalable (both in device and user base) manner.
Your average IBM seller will not know about the offering, you need yo find the right
Distinguished Engineer
and his
Wing man
.
---
Posted by Stephan H Wissel on 12 November 2014 | Comments (0) | categories: IBM IBM - Lotus