The 5 Stages
---
In all areas of live things grown, mature and
decline
. In Buddhist scripture that is called
Samsara
, the wheel of life. IT is no exception to it. When something new, a violation of
the natural order
of things, comes along and displaces
beloved technology
, every
fanboy
has to go through the
5 stages of grief: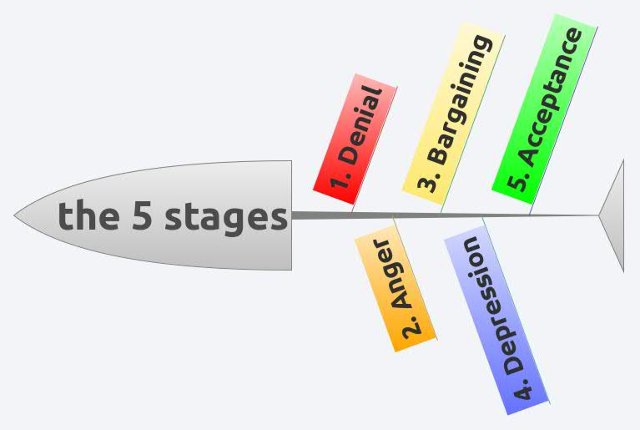 Denial
There is no question OLDTECH is the best in the market, there is nothing that comes close, especially NEWTECH doesn't live up to its expectations. Look at OLDTECH's installed base, the capabilities and the compatibility
Anger
How on earth anybody can deploy or use NEWTECH? Are they out of their minds? What siren songs does NEWTECH sing, so they are blindly following that new crap? NEWTECH needs to be eliminated from the face of the earth. Why does nobody see the superiority of OLDTECH? It is so obvious!
Bargaining
OK, how about coexistence of OLDTECH and NEWTECH? Lets add OTHERTECH to OLDTECH, so it is more attractive. If there is a discount, will you stick with OLDTECH? Look at your code base, migration is too expensive! Don't fall prey to the "the grass is greener on the other side" syndrom. Look at all the experts still around, be part of that community
Depression
How could it happen that OLDTECH fell into decline? It was my everything, my lifeblood (optional: return to step 2). How can IT ever work without OLDTECH? What should I do, now that my heart is lost?
Acceptance
Nobody can take the memories of the good times with OLDTECH, still there is a decent living to be made with it and demand can sustain me. Actually NEWTECH does look really interesting and exiting now, I'll give it a shot
It has
has happened before
and it
will happen again
(so hold back your
reaction
).
Like in eMail, the solution here is
non attachment
and
letting go
---
Posted by Stephan H Wissel on 02 January 2014 | Comments (8) | categories: Software