When Sofware matures you need to cut development to stay profitable, isn't it?
---
Besides having
Fun with Dueck
I discover more and more how prevalent
system patterns
are in business. My special foes are "
Quick Win|Fix|Start
" which are strong indicators for a
Shifting the burden
archetype at work (remember the
sales cycle
). Software is a
very profitable
business that scales very well (your marginal cost to create another software license to be sellable is practically zero - don't confuse that with "cost of sales"). Nevertheless it is also the playground for the burden shifting pattern.
Capitalistic theory
demands that high profit margins attract competitors thus reducing the price a vendor can command until the profit margins aren't higher than in the general economy. Of course market incumbents try to raise entry barriers to prevent such competition (and when they overdo that, they get
investigated
,
sued
,
convicted
and
fined
). So the high profit margins require constant attention since the competition is closer than
they appear
. But what should a company do when competing in a mature market? Ask your average MBA: cut cost of course. So
very
successful businesses do that? Like the insurance industry in Singapore (which managed to sell more insurance per household than anywhere else)? Nope: no cut in staff training, no cut in the work force, but more incentives. What happens when cost are cut to fix short term profitability?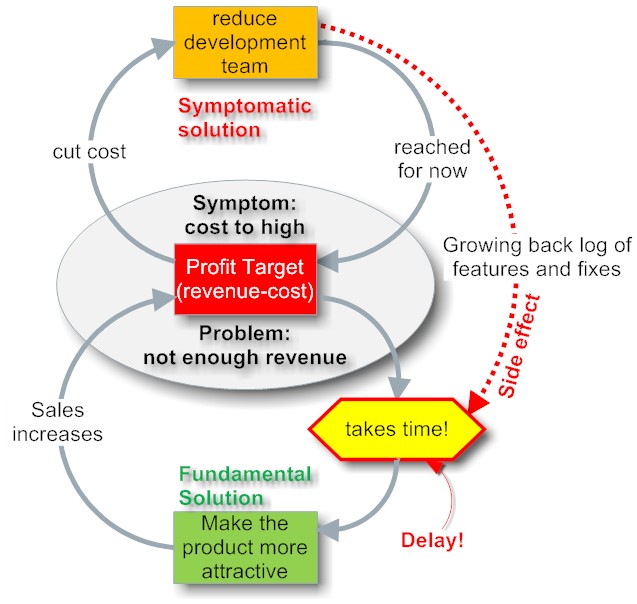 Cutting back on R&D will improve the bottom line when the cut is made. But it will also slow down product improvements. The slowdown not only stems from a reduced team size, but also from becoming preoccupied with ones own survival (will I be the next to be cut?). Once the basic security is gone, the readiness for disruptive innovation disappears making the vendor even more vulnerable to its competitors' assaults. In result the pain of the symptom overshadows the root cause and more cuts are made. Go and visit the
ERP Graveyard
to get an impression for just one software category. Especially in a time of sliding revenues
taking a controlled risk
could revitalise your product unless you are
chronically risk averse
. And don't rely on a customer council (you get
faster horses
then) but on your
ability to innovate
. Unfortunately the cost cutting just removed the necessary funds and, more importantly, the
personal security
that leads to innovation.
---
Posted by Stephan H Wissel on 17 July 2011 | Comments (2) | categories: Omnisophie Software