Singapore Airlines needs a little QA on their website
---
I love my national airline. The planes are modern, the staff friendly and competent, the flights are on schedule. I can't say that about online experiences. The recent revamp of their website deemed me as odd and it took a while before I could pinpoint what irked me:

While
de gustibus non est disputandum
mixing 3 font styles just in the header of a page makes it look odd. Also having entry fields styled in a
italic
serif font violates every single web experience and makes reading the content, especially on small devices, unnecessary hard. But well... I always could overwrite the style sheet. But that wasn't the only problem. I tried to update my profile. My street address contains a # sign. This is quite prevalent in Singapore since addresses are written as Block/Building #Floor-Unit number. This was what I had in my profile. But when I updated a different item I get the error that # isn't allowed in the address --- So
extisting
data suddenly became invalid. Next issue I encountered was the so useful error message: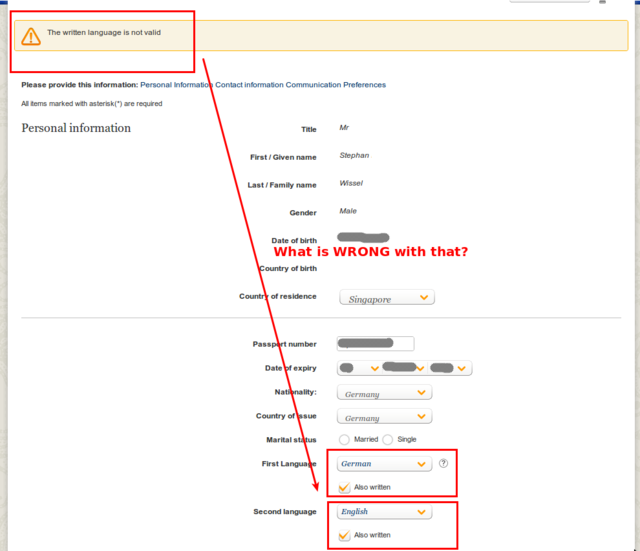 "
The written language is not valid
". Which of the two? And it was a selection from a dropdown, why does the form offer invalid entries? What shall I do?
So I dutifully filled in a feedback form to get insult added to injury in the auto-reply:
"
This is an automated acknowledgment to inform that we are experiencing high feedback volumes related to the launch of our new website. We apologise that we are not able to respond to queries or feedback related to our new website at this stage.
For internet check-in issues, we request that you try again later. Online check-in is available up to 2 hours before your flight's departure. Alternatively, you may also check in using your mobile device or proceed directly to check in at the airport. Please click the following link to access SIA Mobile: http://m.singaporeair.com/...
"
There seems to be some quality gap between IT and flight operations.
---
Posted by Stephan H Wissel on 06 June 2011 | Comments (0) | categories: Software Travel