Tony Buzan Power Learning Camp in Singapore
---
I'm pleading guilty of a mild infection with Singapore's education enrichment fever. Since I'm a big fan of
Mindmaps
, I though giving the kids a head start and let them learn about the mindmaps from the
master himself
. So I signed them up for the "
Power Learning Camp
" with the snappy tag line "let your child be trained in Buzan Learning Techniques". I was expecting the use of mindmaps throughout the course since they were introduced on the second day. The
agenda
had also math topics and I was curious how Mindmaps would help in math skills.In my MindMap the week was looking like this: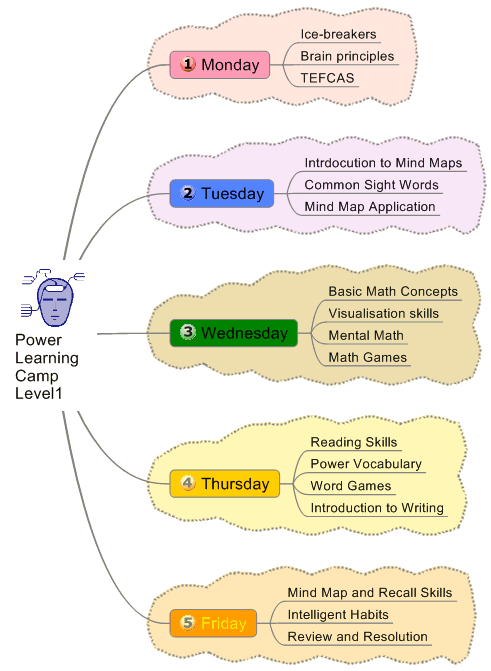 However it turned out, that MindMaps were only a very small part of the 5 day course. The rest of the stuff looked suspiciously like all the worksheet based stuff the kids went through in Kindergarten and now in primary school. Also Anthony and Ernest described the class as rather boring. There I'm not sure if it is
a fairy tale
reaction or if they genuinely disliked it. I'm kind of disappointed of the outcome and think it might not be money well spend (that is a politically very correct statement, my thoughts were actually a little more harsh).
At least that experience works like a vaccine against the next "Enrichment fever infection". Conclusion for holiday activities: if it is not out-doors it will not happen.
---
Posted by Stephan H Wissel on 17 June 2007 | Comments (1) | categories: Singapore