Photo model at the Great Wall of China
---
The conference is starting tomorrow, so I did some sightseeing. The Great Wall of China is on the regular tour calendar in Beijing, so off I went. I was impressed and amused.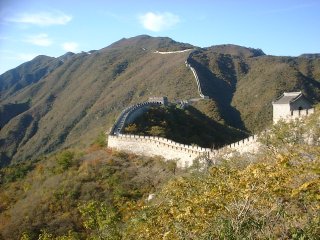 Impressed by the wall and amused by the local tourists...
Being on a picture with a Westerner seems to equally attractive for male and female locals. So I had some photo model sessions. Unfortunately my command of Mandarin is so poor, so I couldn't ask to get a copy emailed. Good fun.
---
Posted by Stephan H Wissel on 17 October 2005 | Comments (5) | categories: After hours