Neighbourhood Crime Watch
---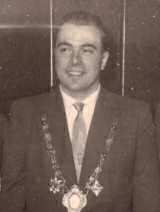 Last week I got invited to patrol with our local Neighbourhood Crime Watch team. There was a time where I was rather the type of person such a team would look for when on patrol then for being the patrol, so I was amused. Since I'm the only Ang Mo (Hokkien for "White Man") in our block my role probably was to give the group a more multi cultural touch.
So Saturday evening we went for our round with two police officers. We checked the cleanliness of the common areas, some id cards of people having their weekend beer on the void decks and talked to some neighbours who overdid the sound- and incense- level of their worshipping.
I had a nice chat with the comity members and the officers. We even got a highlight: Seeing us approaching two migrant workers, obviously with something to hide, started running. Since crime chase is police work only the officers started to run. What a silly idea from the other guys to try to outrun a Singapore police officer, man they were fast.
Me patrolling is kind of repeating history. After world war two, when the German police force hasn't been rebuild yet, a lot of places in Germany had civil patrols. My late father used to participate in these. He pushed it further and joined the village council and even became the major for a few years.
---
Posted by Stephan H Wissel on 05 June 2005 | Comments (2) | categories: Singapore