I made my first million today - Hanoi rocks!
---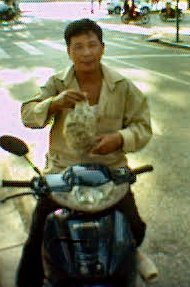 Yes.... My first million. Holding cold hard cash in my hands. Well it's rather warm and flappy and one million Vietnamese Dong (which is about 63 USD). At least now I know how it feels to be a millionaire
. Since I arrived early the afternoon I had some time to kill. I strolled from the hotel towards the "Old Quarter" where you can find a lot of early 20th century buildings filled with buzzing Vietnamese life. Originally I intended to walk but then Lam (see picture) convinced me to be my driver. For about 1.5 hours he drove me through the city Vietnamese style: Traffic signs and lights are decoration or suggestions, not rules; when you see a lot of traffic coming your way, jank your horn and keep driving. Some of the motorcycle riders actually wear helmets -- the ones you know from the Rambo movies. I had a good time, visited the old prison and the Temple of Literature, which was founded in 1070 as an university. Since my driver took some back roads I had a glimpse into Vietnamese daily life. In a rather shadowy narrow run down road, what do I see in the basement of an old house: an internet cafe (my guess about 40 screens) packed with young people. Some stuff seems to be the same everywhere.
---
Posted by Stephan H Wissel on 15 May 2005 | Comments (0) | categories: After hours