Meeting Steve Ballmer
---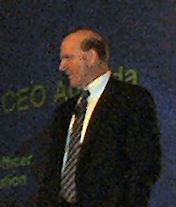 What do Richard Stallman and Steve Ballmer have in common? A lot more than meets the eye on first sight:
One: They are each others nemesis. They don't name each other. Stallman is "the guy who wrote GLP" and Ballmer "The big monopolist".
Two: They both came to Singapore in November 2004
Three: They both firmly believe in what they talk about and have a hard time acknowledging each others view
Four: They both would need some dress code advise. While Richard was talking barefoot, Ballmer was wearing brown shoes to a otherwise flawless dark business suite

Ballmer and the whole Microsoft crew was talking about value creation and shifting IT spending from maintenance to more productive work like new development. Of course the new Microsoft solutions will help there (so they claim). While I applaud that goal (who wants to do maintenance anyway) it looks to me, that savings in maintenance budget will rather result in budget cuts.... and I don't know (outside the consultants scene) much successful administrators in development roles.
Ballmer claimed, business value is the centre of their universe: anticipating business needs and creating value before the business community even would know about this need (or even create the need). Microsoft, so Ballmer, is committed to innovation which is documented in the 3000+ patents Microsoft will file this year alone. Microsoft's vision are agile enterprises driven by agile high performance teams (and Microsoft solutions of course).
On OpenSource and Stallman Ballmer got very firm: they don't believe in Intellectual Property (which is true, Stallman says IP is FUD and distinguished between: copyright, trademarks and patents as unrelated right) and all Open Source users are in jeopardy because law suites will hit them, with Linux alone violating 200++ patents (he mentioned an exact figure with "more than" in front, which is a contradiction in terms).
So what a difference: Stallman on one site: believing in freedom, community and sharing, Ballmer on the other side believing in vision, responsiveness and innovation. My conclusion: they both are right and they both are wrong. It is our task to find a balance between community and commerce. For my taste commerce has the much better lobby (see a future post about pirates).
But surprise, surprise even Microsoft is not alien to the concept of free (free as in beer) software: every participant returning the conference evaluation form was rewarded with a free copy of Microsoft Office Professional 2003.
Steve Ballmer obviously was on high power stress, observing his body when taking questions I saw the muscles stiffing in defence. Only when I asked him how he relaxes from his job, he visibly let go and appeared much more relaxed. Besides the usual stuff like family, sports (running and Golf) Steve mentioned reading eMail in Singapore Airline's First Class would be quite relaxing. So the notion stands: Singapore Girl you are a great way to fly

---
Posted by Stephan H Wissel on 18 November 2004 | Comments (2) | categories: Software