---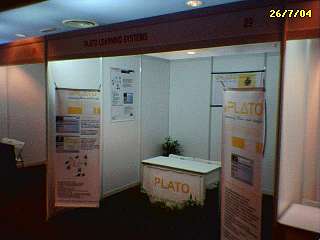 For 2 days I'm exhibiting ePLATO in Kuala Lumpur, Malaysia. The complex the conference cum exhibition is located also features a resort hotel, a night life spot and a huge shopping centre. Starbucks Grande Latte goes at USD 2.50 vs. USD 3.05 in Singapore. Our booth is not very spectacular, however on the first day we collected a number of excellent leads. It seems our regional focus and the mix of product and services looks attractive to our clients.
I can't comment on our hotel, since I don't care for hotels very much. My colleagues are pleased with location, rooms and service. Internet per day goes at 6.60 USD. I can use my room TV, my laptop through a 100MBit connection (local) or via WiFi at the convention centre.
Being curious about WIFI offerings I went and checked out the local providers: The bad news: WIFI for roaming users (read: using IPASS) is 6.5Cent a minute. The good news: if you have a colleague with a MAXIS phone subscription (s)he can send a SMS and get access for a whole day at 1.32 USD. This is quite reasonable. Gaining access for a week goes at 5.27 USD, a month sets you back 10.00 USD and a (prepaid) full year is 96.85 USD. This translates yo just 27cent a day. For this money I not even get 5 minutes access in Singapore. With a pricing like this WIFI usage is fun. An in deed every second table at Starbucks had a laptop on it.
---
Posted by Stephan H Wissel on 26 July 2004 | Comments (2) | categories: Software